Spring Tours 77

Review by Datcheffe (english and german)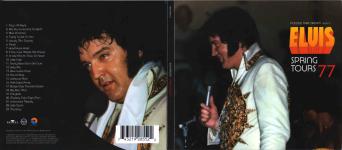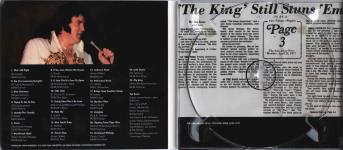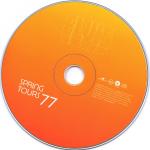 What do I have to say? Hey man, this release is like a drug. I'm hooked on it.
For those who still have their doubts whether to buy it or not: You can't do wrong! Buy it!
To be honest: Elvis in 1977 has never been one of my favorites, but this CD beats it all. Elvis is himself again and he puts all his power into his songs - old ones, new ones and in-betweens.

Without any doubt, the two top highlights are his performances of Polk Salad Annie and Fever. While you could have had the impression that in 1976 he was no longer able to treat those songs like he did the years before, this will be done with Polk Salad Annie right away. You will get the same surprise with Fever. While he was singing this song with maximum power in 1973, one can sit on how Elvis lets the sparks fly, how he puts heart and soul in it. Lawdy Miss Clawdy??? A beautiful bluesy version and Elvis is starting into it without the accompaniment of his group. Here, you can feel Elvis' good spirits, when he did his show in Abilene. And Elvis wouldn't give the horses a rest. Heartbreak Hotel starts and one thought comes to my mind: Is this really Elvis in 1977? And suddenly, I have in mind his performance from the movie TTWII. There is almost no difference between these 7 years. When he does old classics like Teddy Bear, Don't Be Cruel, Blue Suede Shoes, Jailhouse Rock and Hound Dog, Elvis is raising the roof. There is nothing special to say about Help Me except for that it is a very nice and lovely tune! Elvis performs songs such as Trying To Get To You, Fairytale or My Way with the outstanding voice so typical for 1977. In track 18 of this CD release one thing for sure: He's still the Big Boss Man.

There's not much to say about the quality of the sound ... it is brilliant. This is of course a compilation of some of his show highlights in Spring 1977. When one listens to Spring Tours 77 probably nobody will believe that less than a half year later Elvis will have gone forever. Perhaps the question arises: HAS ELVIS REALLY LEFT THE BUILDING FOREVER?



Tja, was soll ich sagen???? Diese CD macht süchtig. Sie ist der absolute Hammer.
Wer bisher Zweifel hatte sie zu kaufen, kann beruhigt sein. Kauft Sie!!! Ihr könnt nix verkehrt machen.
Ich gebe zu Elvis 77 zählte nicht zu meinen Favoriten, aber als ich die Scheibe hörte, war ich schlichtweg hin und weg. Der *alte* Fuchs zieht noch mal richtig vom Leder.

Zu den Absoluten Highlights der Scheibe zählt in meinen Augen ohne Zweifel Polk Salad Annie und Fever. Während man 1976 nicht immer den Eindruck hatte dass Elvis in der Verfassung sei Polk Salad Annie zu bringen, wird man durch diese Aufnahme für alles entschädigt. Die gleiche Überraschung erlebt man bei Fever. Während dieser Song meiner Meinung nach 1973 am meisten Feuer hatte, zündete Elvis bei dieser Version noch mal den Nachbrenner!!!!!Lawdy Miss Clawdy????? Eine wunderschöne bluesige Version mit der Besonderheit, dass Elvis das Stück ohne Begleitung der Band beginnt. Auch hier merkt man dass Elvis in Abilene richtig gut drauf war! Heartbreak Hotel beginnt und es schießt einen durch den Kopf: Was denn 1977??? Man denkt sofort an TTWII. Es gibt kein Unterschied zwischen den 7 Jahren. Bei den alten Stücken wie Teddy Bear, Don't be cruel, Blues Suede Shoes!!!!!!!,Jailhouse Rock und Hound Dog läßt es Elvis richtig beben.Zu Help Me ist nichts besonderes zu sagen, außer dass es sehr hörenswert ist. Lieder wie Tryin'to Get To You, Fairytale oder auch My Way bringt Elvis mit der für 1977 bekannten überragenden Stimme. Bei Track 18 dieser CD läßt Elvis keinen Zweifel aufkommen wer zu dieser Zeit der Big Boss Man ist.

Über die Soundqualität dieser CD brauchen wir keine Worte verlieren, da sie einfach brilliant ist.
Um zum Abschluss zu kommen. Es ist klar dass diese Scheibe ein Zusammenschnitt der Höhepunkte vom Frühjahr 1977 ist, aber es ist schwer zu glauben dass ein halbes Jahr danach Schluss mit allem war. Stellt sich mir noch die Frage:
HAT ER SICH VIELLEICHT DOCH NUR VOM ACKER GEMACHT????